Published: 01 August 2023
Emphasising Quality Training: APC & Bartolini's Renewed Partnership
To coincide with the great news that APC and Bartolini air have renewed their quality assured partnership, I visited Bartolini Air for two days recently in its hometown of Lodz, in Poland. I am delighted to share with you some of the fun and professional impressions that I took away from my visit.
Renewing our quality assured partnership emphasises our joint commitment to providing APC members, and Bartolini students in general, with quality training that is at the highest level in Europe. Bartolini is famous for its competitive pricing, and when you combine its low prices with superb training, which is as good as, and better, in many cases than anywhere in Europe, students attending Bartolini Air enjoy a great training experience.
Bartolini Air: A Top-tier Aviation Training Organization
Bartolini has worked with APC's team of airline training experts to put in place additional quality features and emphasis, so that Bartolini's training standards are exactly what recruiting airlines like Ryanair are looking for.
Exploring Lodz: A Vibrant City and Home to Bartolini Air
My first impression was when I was brought to downtown Lodz was that it a vibrant, exciting city with loads of young people out socialising in cafes, bars, and restaurants. Lodz is being renovated and many of the old buildings associated with previous textile industries have been converted to locations where classy restaurants and jumping bars are available to enjoy. The longest straight street in Europe is home to lots of shops and brands that are familiar to everyone around Europe and the world. Lodz certainly feels like a university city, and it reminded me very much of my hometown in Dublin.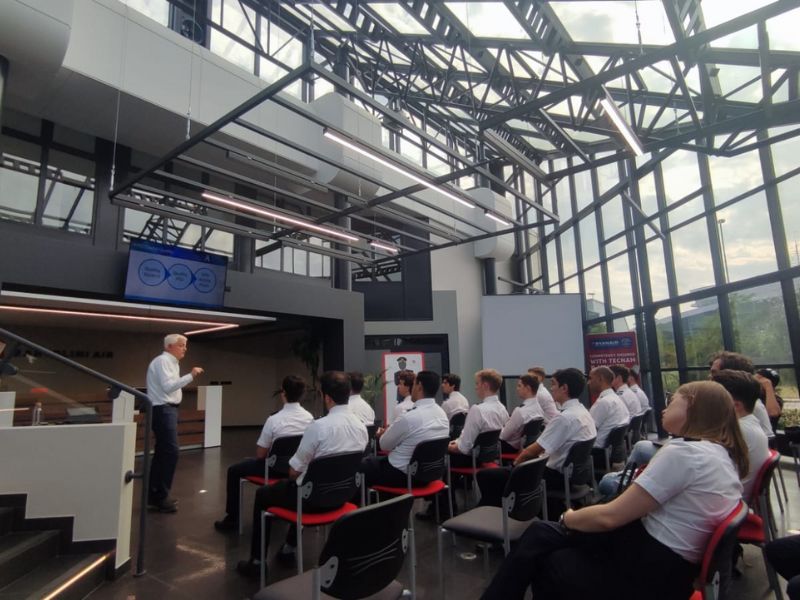 Beyond an ATO: Bartolini Air's Ambitious Aviation Offerings
When you get to the airport in Lodz you realise very quickly that Bartolini Air is more than just an ATO. It has taken over a former terminal building in the airport and has converted this into a sleek, classy, modern, and clean learning environment. Bartolini Air is both an approved training organisation and the holder of an Air Operator Certificate which means that it is a small airline, operating a fleet of Citation jets. This charter operation needs pilots, and when I was there, I was lucky enough to see base training of two former Bartolini students who had done the executive chess type rating course and we are doing their base training in Lodz airport. It was great talking to them afterwards and to see how excited they were to move into a great pilot career opportunity in the business jet sector. Bartolini Air has plans to use the former terminal as a bizjet FBO centre and general aviation terminal. When you remember that the company started training out of a tow-hitch caravan, you get some idea of the scale of ambition and strategic thinking that underpins the Bartolini Air offering to the aviation industry.
Meeting the Professional Management Team at Bartolini Air
I already knew many of the management team including Bartek Walas, Adam Stawczyk, Nuno Nogueira, Jakub Benke, and Piotr Materka. It was a pleasure to meet many of the additional people that work hard to make Bartolini Air such a success. I had the pleasure to meet Paulina Suska during the time that I sat in on some ab-initio interviews which were impressively conducted with two applicants. What struck me about the management team was the combination of clear determination to be professional and strive for excellence but at the same time enjoy what is an amazing occupation and have fun with your colleagues and your students.

State-of-the-Art Facilities: A Tour of Bartolini Air's Training Centre
Adam took me on a tour of the building and the facilities, and I was super-impressed with everything that I saw. Firstly, the facilities are spotless, bright, and fresh. The administration offices are well separated from the technical knowledge training classrooms and other student facilities of which there are many. One exception to that is the location of the student lounge which is conveniently close to the student welfare team. The four spacious classrooms are well-appointed with training aids and comfortable seating in a well-lit environment. I was lucky enough to meet two of the technical knowledge instructors and I could see that a positive learning experience was being enjoyed by their students.
Flying High: Bartolini Air's Superb Simulator Fleet
Next came a trip to the passenger terminal where Bartolini Air fleet of simulators is located. Here is where the scale of ambition and self-confidence inherent to the management team is evident. Bartolini Air has built a superb Tecnam simulator which I had the pleasure of trying to fly! My scan was pathetic but what struck me most were the superb displays and the range of normal, non-normal, and emergency procedures that could be presented to a student. These were all fully in line with what students would expect when they progress to more advanced training in airliner type simulators.
Base Training & Impressive Fleet: A Day at Bartolini Air
On day two we visited the hangers and the dispatch area, which was interesting. Some crosswinds and the threat of thunderstorms limited the amount of flight training that could take place on the day however, as mentioned above, it was great to see the base training taking place in Bartolini's Citations. The aircraft fleet is impressive, and an interesting fleet of client-owned aircraft was undergoing maintenance at the time.
Recommended Excellence: APC's Quality Assured Partner
Finally, I walked a few paces from the training centre to the Lodz passenger terminal where I boarded my Ryanair flight direct to Dublin. This was a long overdue but highly enjoyable and impressive visit to one of APC's oldest quality assured partner ATOs. The training here is excellent and is highly recommended.